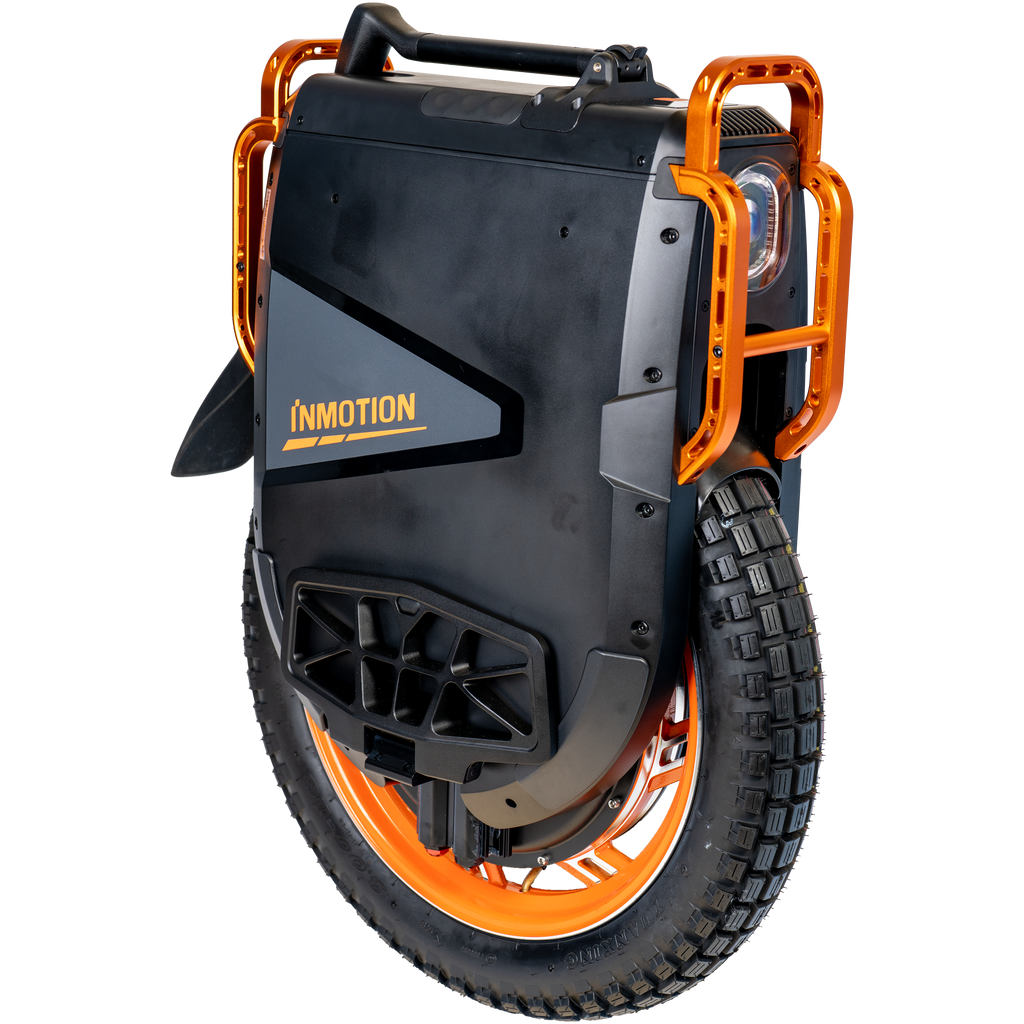 The InMotion V13 is an extremely powerful wheel built to a high standard. InMotion has always made good all-round wheels, but with the Challenger they have gone into overdrive.
The InMotion V13 is their first 126V wheel. The high voltage allowed them to put more power into the motor, which has an output of 4500W. This provides a lifting speed of 87mph. Combined with a massive 3024Wh battery, you get one of the fastest and most powerful EUCs that can also travel long distances.
With independent suspension chambers that smooth even the bumpiest roads and a 22-inch off-road tire, the InMotion V13 is designed to handle any hill and trail. It's also possible to remove the struts if you're not a fan of the dampening feel and higher center of gravity.
Thanks to the dual charging ports, USB-A and USB-C, you can charge it faster and use it as a huge battery bank. The InMotion Challenger can draw up to 14A of current, fully charging in less than 3 hours. There is only 1 charger in the box, so check our store if you want a second one.
There is a powerful 18W headlight and a decent taillight, as well as InMotion's touch screen on the top of the unicycle. Like the V12, the screen lets you keep an eye on your battery and speed, and you can also quickly adjust settings without needing the InMotion app.
InMotion are big on safety so they invested a lot of time and money in developing this machine. There are 2 motor hall sensors in the motor to prevent a failure if one fails. There is a smart BMS that monitors each battery cell and the way the batteries talk to each other and the motherboard means you always get accurate information about the battery status. The rim is reinforced to handle more than 2 tons of pressure, there is varying degrees of waterproofing on all major components.
The InMotion Challenger also has a modular design that makes maintenance easier and protects internal components better. Their new Raptor controller has many MOSFETs and capacitors that can take a lot of electrical current, InMotion has put a ton of safety margin on all components. The V13 aims to offer the fastest and most powerful ride that is also the safest at the same time.
Commuters can find the traditional InMotion-style trolley handle, as well as a roll cage that helps lift the wheel. There are also pads that help with acceleration and braking and a fender to keep your bottom from getting dirty!
A look at the specifications of this machine shows that InMotion has unleashed a beast. Of course, the specs don't tell the whole story, so stay tuned for our real life video review of the InMotion V13.