Get in touch
Want to get in touch? We'd love to hear from you. Here's how you can reach us…
Contact support
Sometimes you need a little help. Don't worry, We're here for you. Our email team can help you with all your burning questions. They can also schedule testrides in our stores or check where you package is.
Email info@ridefatdaddy.com
Just chat with us during business hours,
Got a pre-sale question? We cannot change the delivery address or cancel an order by chat, you need to reply to the original order confirmation email for that.
Maybe your answer is here?
Repairs
Most of the vehicles and products that Fatdaddy sells are equipped with 18650 Li-ion batteries. These batteries are the best you can get at this time and all of our suppliers use the best possible parts. But why does my battery looses capacity over time?
The answer is pretty simple, this is a natural degeneration of the cell itself. Every time you charge the battery the cell gets a little damaged and after a longer time period (or a lot of charges) the battery will loose capacity.
There are also a lot of other factors that will impact the amount of miles you can get from your battery. For example the road you ride on, the weather (wind) or even your weight can heavily decrease the range you get from your vehicle. This is also why it's sometimes difficult to promise a certain range and why we always promote a rough estimate.
If you feel that your battery is not working as should you can always contact our service center and let us check it out. Just remember that if your battery is not functioning as it should you should never charge, use or open the battery case.
The costs of shipping your product to our service center in Amsterdam.

A investigation fee of €49 euro for which we will investigate the entire product on the cause of defects.

After investigations are completed we will give you a quote with a cost and time estimate to repair the product. At this point you can agree or cancel.

Shipping the product back is free within The Netherlands but we charge a small UPS/DHL shipping fee for other countries.
Fill in the repair request form on our repairs page.
If we accept your repair request, ship us your product.
Once it arrives we perform a diagnostic of the issue.
We will consult you beforehand to approve the repairs and costs.
After completing repairs and testing, we ship it back.
Yes, it's what we do best! Our electric skateboard repair and maintenance team is equipped with parts for most brands. We can also assist in repairing a Do It Yourself project that you built yourself. We also create custom batteries for these projects.
We are the official repair centre for brands like Boosted Boards and Enertion.
If you want a cost estimate, fill in the form on our repairs page.

Please make sure you have filled a repair request. If your request for repair has been approved you will receive instructions to ship your product to one of the addresses below:
Fatdaddy Amsterdam (repairs)
Street: Kropaarstraat 1B
Postcode: 1032LA
City: Amsterdam
Country: Netherlands
Fatdaddy Denmark (repairs)
Street: Vestergade 1
Postcode: 8000
City: Aarhus
Country: Denmark
Made sure you write on the package slip that this includes an item that is going to be repaired.
Shipping
You can find your trackingcode by going to your Orders dashboard and clicking on the specific order. The UPS codes will be under Shipment Tracking Details. See the picture below.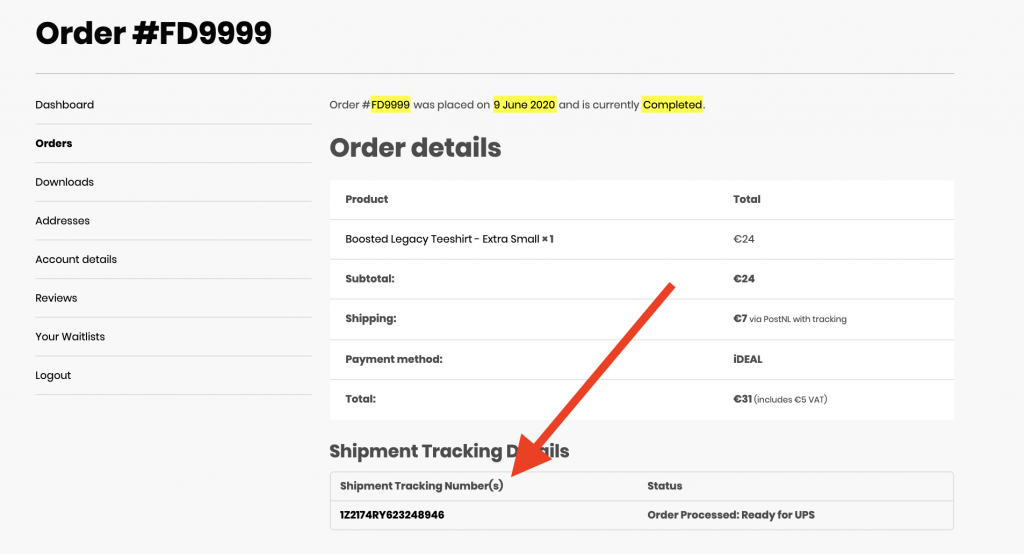 Packages are shipped every Tuesday from our warehouse. See how long it takes to deliver to your country here.
If you did receive a track & trace code, please contact support with your order number. You can also login to your account and see the tracking code under My Orders after you log in.
No problem. If you're not completely in love, let us know and send it back to us. We do have some rules on returns. For more details, check out our handy Returns & exchanges page.
You certainly can! Just select "Pick up in Fatdaddy store" at checkout and choose the most convenient store location for you. You'll receive an email as soon as your order is ready to pick up – just remember to bring your ID, so we know it's you.

Since we are a EU registered company we pay all import and VAT duties for you in advance. This only applies to country's within the EU.

Buying something online with Fatdaddy should be just as hassle-free as possible. Enter your address in your cart, or at checkout to calculate the shipping costs.
You can combined multiple items into one shipment, the price will not change and is for the total shipping lot, not per item. If we ship multiple boxes you will also receive multiple track&trace codes.

We ship to every EU and a few US locations* though direct, secure and insured shipping.
If you country is not listed during checkout you get the option to 'ship it yourself' this means that you will arrange pickup and shipment of your order from the Fatdaddy warehouse to the destination. When your order ready to be picked up you get an email with all the pickup details, the shipping agent needs to sign a document when they pick it up. This shipping methode is for your own expense, own liability and has a restock fee of 10%.
You can check the estimated shipping time for orders on this page or on the checkout page. All accessories ship within 48 hours. When your order leaves our warehouse, you'll receive an email with a tracking number – you can use this to follow your order's journey to your door or to one of our stores. We work with international shipping partners to get your order to you as soon as possible, but delivery times vary depending on where you order from.
*We ship to certain area's in the US. Want to know more about shipping to your US address send us an email.
Fatdaddy
Before purchasing your desired product, we highly recommend that you check your country's specific laws and local regulations regarding the use of this item. You are responsible for complying with all applicable laws and regulations and Fatdaddy waives all liability regarding your use of an product bought with us.
Yes you can! Want to try before you buy to get a feel for it? Book a test drive at one of our stores by going to the product page and clicking 'Book a test drive' and fill out the form.
Our stores are located in the Netherlands, Germany, Denmark and Croatia. See all address details on our stores page.
Fatdaddy is the biggest electric mobility shop in Europe.

The idea for our company started at the end of 2017 when we, a group of friends, worked on a Do It Yourself skateboard project.
While we are a small operation, years of experience in the boarding and tech industry has allowed us to operate extremely efficiently keeping costs down for our customers.
Orders
If you own or buy as a business inside the European Union you can add you VAT number during checkout which (when valid with the destination country) will automatically deducts the vat from your total amount.
VAT numbers will be check with the VIES database which is build buy idiots. If you know that your VAT number is correct and it says it's not try again later, computer says nooooo.
It is only possible to change your order if it has not been shipped yet. Please contact support as soon as possible. The sooner you're able to let us know about any changes you'd like to make, the more likely we will be able to accommodate any requests.
Pretty much, yes! All you'll need to do is unpack the order and mount the accessoires. Don't worry, you won't have to be a mechanic to do it – we include all the instructions and tools you need to get rolling. Our team is always available to help via email, web chat, and social media!
Ebikes and e-scooters might need some small assemblage upon arrival.

Payments
We do not offer vat-free shopping for non-EU citizens that are returning to their home country. You can however buy a product in one of our stores and get the VAT back at most airports.
Yes, the advertised price on our website's and in our stores are including VAT and import charges for deliveries in the EU. We pay for the charges when the product comes first in our warehouse in Amsterdam.
Yes you can! We worked hard to get this to work and we are adding new countries as fast as wel can.
We understand that purchasing an electric bike or electric skateboard is a significant financial investment! We have partnered with Klarna to make the commitment easy by offering flexible finance options to suit any budget.
Right now we provide monthly payment to residents of the following countries:
The Netherlands
Austria
Finland
Germany
Denmark
Returns & Refunds
Batteries are excluded from our return policy if the original package has been opened or damaged. Batteries can only be returned if you contact Fatdaddy before you send the battery pack back.
Returning products? Make sure they are packed properly and safe.

Fatdaddy Amsterdam
Street: Kropaarstraat 1-B
Postcode: 1032LA
City: Amsterdam
Country: The Netherlands

You will be responsible for paying for your own shipping costs for returning your item. Shipping costs are non­refundable. If you receive a refund, the cost of return shipping will be deducted from your refund.
If you are not entirely satisfied with your purchase, we're here to help. Sadly we cannot take back used products, so make sure you don't unpack or ride it.

You have 14 calendar days to return an item from the date you received it. To be eligible for a return, products must be unused and in the same condition that you received them. The product must be in the original unopened packaging. There will be a restocking fee of 10% applied to any order that returns items that include electronics.
Warranty
The Fatdaddy Extended Plan is an additional service that we offer for electric skateboards, electric bikes and other products that are used on the daily. You can select the plan on the product page or during checkout. 
We give great service by default but with our Extended Service you will get even more! Our Extended Service is a customer made service that is only provided by Fatdaddy stores or Fatdaddy Partners. 
Electric Skateboard Extended Service – This service is tailor made for electric skateboards, the accessories and can only be bought during your initial purchase. With our Extended Service you get a bunch of extra's like a free loaner you can use during repairs (pickup in our stores), you will never have to pay for parts during a repair, and we ship back your repair to every location in the EU for free! So don't waste your time on jibba-jabba during a repair, with this small add-on you know that you are set for even greater customer service. 
The warranty covers the original purchaser from any defects in material or workmanship under normal use for six months from the date of invoice.
Warranty parts will be provided free of charge with free shipping to all original purchasers in the EU. Original purchasers outside the EU will be provided warranty parts free of charge, if covered under warranty, but they will have to pay shipping.
This Limited Warranty does not cover any problem that is caused by conditions, malfunctions, or damage not resulting from defects in material or workmanship. These conditions may include, but are not limited to, road hazards, accidents, and improper operation or maintenance. Please refer to your manual for additional examples of uses not covered under warranty.
Read more details on our Warranty page.

Your purchase is covered with a 24 months factory defaults warranty. Batteries in and outside of a product are covered with a 6 months warranty.  This is valid from the date of the original purchase from Fatdaddy and if only used in accordance with published guidelines from Fatdaddy.
Fatdaddy B.V. Trading name Servermeister B.V.
CoC: 65950755
VAT: NL856330383B01
Kropaarstraat 1B
1032LA Amsterdam
Netherlands