Brand: Boosted Boards
Boosted Board Mini X
Includes import & tax for Europe.
€1099
Perfect for shorter commutes, cruising campus, and quick errands, the Boosted Board Mini X is everything you need in a small electric skateboard.
Range: 22KM
Top Speed: 32KM/U
Highlights: Compact, Build quality,  Speed.
Estimated Delivery Date: July 19
You will receive a UPS tracking code as soon as we ship.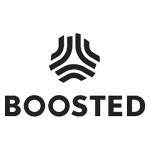 This item is part of a liquidation sale of Boosted. Sold at the buyer's own risk and peril, without warranty against hidden defects. It is brand new and checked for defects before shipping. We offer a 14 day exchange to support any issues on arrival to make sure you always receive a working product. More info.
Product Features
Specifications
General
Brand: Boosted Boards
Weight: 6,8 kg
Length: 75 cm
Width: 28 cm
Warranty: 24 months
App Support: Android, IOS
Supported Weight: 110 kg

Motor
Topspeed: 30 KM/H
Motor Watt: 1000 watt (2x 500 watt)
Hill Climb: 20%

Deck
Deck Type: Kicktail Short Deck
Deck Material: Bamboo, Carbon

Wheels
Wheel Size: 80 mm
Terrain: Street

Remote
Remote Connection: Bluetooth
Remote Charge Port: Mini USB

Battery
Range: 10-20KM
Charge Time: 1h 45m
Air travel: Not allowed on aircraft
Battery Type: Lithium-ion

Brakes
Regenerative: Yes

Share your experience below!