Our range of Swiss designed and engineered scooters are renowned for their durability. Expertly crafted to be long lasting and robust every single Micro scooter undergoes a gauntlet of tests to ensure it can withstand the pressure a child or adult can throw at it.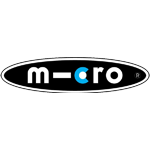 Micro has a wide selection of electric foldable scooters, developed and designed in Switzerland. There is a choice of motion controlled scooters and scooters with a throttle. Because of their light weight and compact format they are ideal for the last mile. Folded up the can be easily taken with you in car, bus or train. You will scoot fast and comfortably to your destination.
The Micro Merlin
The Micro Merlin offers a range of up to 25 km with excellent driving comfort. The big wheels combined with both front and rear suspension provide a safe driving experience even when street conditions are rough.
The Micro Condor II
The high-performance motor in the Micro Condor 2 with a maximum power of 600W, makes it possible to cope with hills of up to 15%. Thanks to the exchangeable battery of the Micro Condor II, longer distances are not a problem.
The Micro Explorer
The Micro Explorer electric scooter is the perfect last-mile-solution. The wide deck, the adjustable handlebar and front and rear suspension ensure a pleasant driving experience on rough surfaces.